Free stories, pre-orders and website updates, oh my!
A bit of a round-up post today, mainly consisting of things which I think of as good news. First of all, thanks to everyone who commented on my branding questionnaire post. I've thought about it over the week and decided that I can't really handle historical and fantasy under completely different pen names, because there will be many situations in which I'll be doing something that's historical fantasy or fantasy historical. So all three things bunch together.
I have, however, come up with a new tag-line to describe the sort of historical and/or fantasy writer I am, and re-vamped the header on my website to match. I like it more the more I see it. At least it's not as grim as the old ones. What do you think?
The new historical, fantasy and historical fantasy header revealed 🙂
Other nice stuff for me – I've just sent in the final line edit of Under the Moon: Dogfighters. So now I can wrap and send presents with some hope of them arriving on time. Even better, Samhain tell me they will get Dogfighters available for pre-order just as soon as the cover art is OKed.
Under the Hill: Bomber's Moon is already available to pre-order, which I think is astonishing and very cool, as it's not out until April. It has a new blurb, rather better than the one it's been using in the past –
The faeries at the bottom of the garden are coming back—with an army.
Under the Hill, Part 1
When Ben Chaudhry is attacked in his own home by elves, they disappear as quickly as they came. He reaches for the phone book, but what kind of exterminator gets rid of the Fae? Maybe the Paranormal Defense Agency will ride to his rescue.
Sadly, they turn out to be another rare breed: a bunch of UFO hunters led by Chris Gatrell, who—while distractingly hot—was forcibly retired from the RAF on grounds of insanity.
Shot down in WWII—and shot forward seventy years in time, stranded far from his wartime sweetheart—Chris has been a victim of the elves himself. He fears they could destroy Ben's life as thoroughly as they destroyed his. Chris is more than willing to protect Ben with his body. He never bargained for his heart getting involved.
Just when they think there's a chance to build a life together, a ghostly voice from Chris's past warns that the danger is greater than they can imagine. And it may take more than a team of rank amateurs to keep Ben—and the world—out of the elf queen's snatching hands…
Warning: Brace yourself for mystery, suspense, sexual tension, elves in space and a nail-biting cliffhanger ending.
~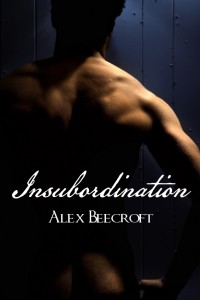 On the free story front, thanks to Gaye who gave me the heads up that the link to Insubordination (the Captain's Surrender tie-in) was not working on my website. I've fixed that, and – in the process – I've made the story into a .pdf with a nice new cover. It's now back up and available for anyone to download to their e-reader or computer.
I've also fixed the link to Communion (the Wages of Sin tie-in) which is also available in pdf form suitable for your e-reader.
I'll work through and give the other freebies their own cover art in due course. And possibly also put up Wildfire for anyone who wants it. Now I really need to get wrapping!