Reluctant Berserker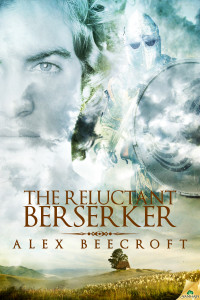 It is the Dark Ages, and in Saxon England no real man would ever allow himself to be sexually dominated. Even the suggestion can be enough to destroy a man's reputation and life. So when respected warrior Wulfstan's lover threatens to expose him, he strikes back – too hard. Now he's running from a murder charge, pursued by the deadly curse of his friend's vengeful witch of a mother.
Bard Leofgar is slight, beautiful and friendless. No one would think twice if a more powerful man treated him like a sex toy. But he has the temerity to insist that he's as good a man as any, and to run away from his Lord's attempt to coerce him into bed.
He and Wulfstan meet on the road to Ely, and it's obvious at once that they were made for each other. If only they could outwit first the knights sent to drag Leofgar back to his Lord, the magic sent to drag Wulfstan to a watery grave, and their own sometimes violent shame.
~
One of Cooking Up Romance's Best of 2016
The most recent book I adored was The Reluctant Berserker by Alex Beecroft, which came out in 2015…. [The] detailed interplay between pagan and Christian cultural forces made The Reluctant Berserker one of the most interesting romances I've ever read.
~
A substantial excerpt is available to try before you buy in Volume 0, available online or in the Freebies section. Or just click below for the full novel.