Fantasy
Novels
Click on the book covers to go to that book's individual page, where you can find its reviews and excerpts.
Are the sins of the fathers really visited upon the sons? And is there no way of breaking that cycle? Is evil doomed always to repeat itself, ruining everything good through its tainted seed?
These are not the questions young Oswy is asking himself when he is sold to the witch-Lord Sulien FitzGuimar – he's too busy wondering 'why me?!' They are, however, the questions which plague Sulien himself. Locked in a struggle for freedom, sanity, the very survival of his soul, Sulien must daily battle not only angels and demons, but the core of evil in his own heart.
When the King's vile sorcerer stages a coup, dragging ancient magic, the elves, and the royal court into his Empire-building plans, the woman he has set his sights on as a bride – timid, aspiring nun, Adela – sets out to find someone to oppose him. It's just unfortunate that the only candidates are cowardly Oswy, Adela herself and Sulien – who, deep in his heart, wants to surrender and join in.
When the hope of redemption is balanced against the lure of revenge, which will prove stronger, flawed good or perfect evil? Available to buy here. Or in print here.
Under the Hill, Part 1
When Ben Chaudhry is attacked in his own home by elves, they disappear as quickly as they came. He reaches for the phone book, but what kind of exterminator gets rid of the Fae? Maybe the Paranormal Defense Agency will ride to his rescue.
Sadly, they turn out to be another rare breed: a bunch of UFO hunters led by Chris Gatrell, who—while distractingly hot—was forcibly retired from the RAF on grounds of insanity.
Shot down in WWII—and shot forward seventy years in time, stranded far from his wartime sweetheart—Chris has been a victim of the elves himself. He fears they could destroy Ben's life as thoroughly as they destroyed his. While his team tries to determine what the elves want with Ben, Chris is more than willing to protect Ben with his body. He never bargained for his heart getting involved.
Just as they begin to think there's a chance to build a new life together, a ghostly voice from Chris's past warns that the danger is greater than they can imagine. And it may take more than a team of rank amateurs to keep Ben – and the world – out of the elf queen's snatching hands…  Available to buy here.
Under the Hill, Part 2
Kidnapped by the Faerie Queen, Ben is confronted with his own supernatural heritage, a royal family and a lover he doesn't remember. His first instinct is to turn his back on them all and get back to Earth. Compared to this, Chris and his wacky cohorts seem almost…normal.
Back on Earth, Chris Gatrell is having trouble convincing the police that he didn't do away with Ben and hide the body. Determined not to lose another sweetheart to the elves' treachery, he presses his motley crew of ghost hunters to steal a Mosquito bomber…and prays the ghosts of his WWII crew will carry them through the portal to Ben's rescue.
Meanwhile, Chris's elf-trapped WWII love, Geoff, has a dragon and he's not afraid to use it. If only he could be entirely sure which of the elf queens is the real enemy—the one whose army is poised to take back planet Earth for elf-kind.
In the cataclysmic battle to come, more than one lover—human and elf alike—may forced to make the ultimate sacrifice. Available to buy here.
~
Novellas
Charles Latham, wastrel younger son of the Earl of Clitheroe, returns home drunk from the theatre to find his father gruesomely dead. He suspects murder. But when the Latham ghosts turn nasty, and Charles finds himself falling in love with the priest brought in to calm them, he has to unearth the skeleton in the family closet before it ends up killing them all.
Available to buy on its own in ebook here, or in a print anthology called "The Mysterious", with stories by Josh Lanyon and Laura Baumbach here.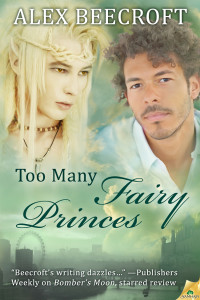 When Dave Wilson's boss clears out the coffers of his failing art gallery and disappears, leaving him to confront an angry loan shark and his brutal henchmen alone, the last thing he needs to find, behind the bins at the back of his house, is a fugitive elven prince. Equally, Kjartan has quite enough to do, defending himself against his murderous brothers in the competition for succession to his kingdom's throne, without having to get involved with Dave's financial problems too. But they're both going to have to make the best of it, because fairy tales run rough-shod over reluctant heroes. Especially if they start off with too many princes and not enough happy endings to go around.
Due out 5 November 2013 from Samhain Publishing
 ~
Short Stories
I have one fantasy short story available in:
Tea and Crumpet: A celebration of British authors of LGBT fiction.