Labyrinth
A historical novella set in Ancient Minoan Crete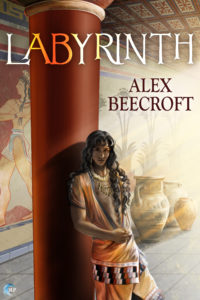 Kikeru, the child of a priestess at the sacred temple of Knossos in ancient Crete, believes that the goddesses are laughing at him. They expect him to choose whether he is a man or a woman, when he's both. They expect him to choose whether to be a husband to a wife, or a celibate priestess in the temple, when all he wants to do is invent things and be with the person he loves.
Unfortunately, that person is Rusa, the handsome ship owner who is most decidedly a man and therefore off-limits no matter what he chooses. And did he mention that the goddesses also expect him to avert war with the Greeks?
The Greeks have an army. Kikeru has his mother, Maja, who is pressuring him to give her grandchildren; Jadikira, Rusa's pregnant daughter; and superstitious Rusa, who is terrified of what the goddesses will think of him being in love with one of their chosen ones.
It's a tall order to save Crete from conquest, win his love, and keep both halves of himself. Luckily, at least the daemons are on his side.
~
~
I found the book huge fun and read it, letting out little whoops of delight when I spotted things I recognised. Kikeru is a delight and my heart was won  by big sensible Rusa, who can't quite believe his luck in getting a lover who is just so unusual and inventive. – Sinfully, Gay Romance Book Reviews
If you like Greek mythology and legends – or want to learn more about them, if you enjoy reading about history in fictional form that allows long-past events and people to come to life and makes them feel "real", and if you're looking for an entertaining, suspenseful, thought-provoking read, then you will probably like this novella as much as I do. I loved it from beginning to end! – Rainbow Book Reviews
Review from Just Love Reviews