Or: A guest post on The Novel Approach (with giveaway) celebrating the release of Blue Steel Chain–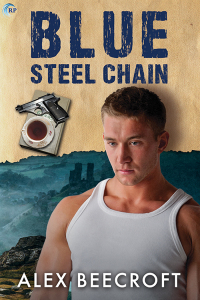 When False Colors came out in 2009, I still thought I was straight. I remember the furor that was kicked up by the marketing campaign for that book, which was released as part of a four book attempt to take m/m romance to the mainstream under the ill advised marketing slogan "m/m romance by straight women for straight women." The four authors involved were somewhat startled by this because they were Erastes, Lee Rowan, Donald Hardy and me. That's two bisexual women, a gay man, and an asexual person who really still isn't quite sure about this whole gender business.
I've digressed. My point was that at the time I didn't know that asexuality existed. I thought I was the token straight in that group. I'd always been aware that I'd never been very good at being straight. I'd always felt that there were vast areas in our culture that I just wasn't getting. The whole business with sex, for example. What was the attraction? What was the point? I could see that it seemed to be a huge driving force in human interaction, and yet for me it was a blank space. Did that mean I wasn't human? I sometimes felt that way.
I defined myself in negatives. I wasn't a woman but I wasn't a man. So I probably wasn't trans. I wasn't gay or bi or poly, but I really wasn't very straight either.
How could a person who was so nothing ever actually exist at all?