Seeing Red is out today!
I can finally announce that the ebook is out and available today!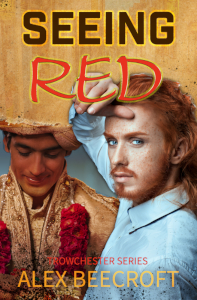 Bad boys don't tame easy.

Victor is a bad man. Is there anything he won't do for power and money? Destroy a local business so he can buy it cheap? Kick out its owners and turn it into a cash cow? He relishes the chance.

Idris is a good man in possession of a renowned tea-house. He's put his heart and soul into the place. It's everything he has and wants… Except for Victor. He wants Victor too. Can the love of a compassionate man restore a predator's withered soul? Or is Idris doomed to lose his life's work, and his heart with it?

~

A contemporary mm romance, Seeing Red is a long-awaited new installment of the critically acclaimed Trowchester Series. Each book in the series is a standalone, and can be read in any order.

If you get it, and I can beg one last favour, can I ask that you review it on Amazon after you read it?

When I was pro-published it didn't matter so much whether I got reviews or not, but for an indie author they make a huge difference to how well I can promote and advertise it.

Thank you!


And finally – as a way of saying thank you for putting up with all the chat about Seeing Red recently. I would like to point out that The Reluctant Berserker is currently available for free on Amazon, and will be free until Friday. You could snap them both up together 😉