Free Giveaway
To celebrate a combined Easter and my relaunch of my Riptide books, I thought I would run a giveaway. If you fancy getting Trowchester Blues for free, it is now available for a bargain price of absolutely zero on Amazon, and will be available for nothing until April the 4th.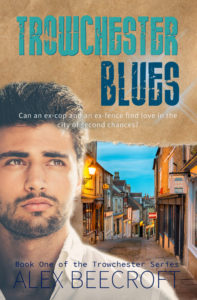 Michael May is losing it. Long ago, he joined the Metropolitan Police to escape his father's tyranny and protect people like himself. Now his father is dead, and he's been fired for punching a suspect. Afraid of his own rage, he returns to Trowchester—and to his childhood home, with all its old fears and memories. When he meets a charming, bohemian bookshop owner who seems to like him, he clings tight.
Fintan Hulme is an honest man now. Five years ago, he retired from his work as a high class London fence and opened a bookshop. Then an old client brings him a stolen book too precious to turn away, and suddenly he's dealing with arson and kidnapping, to say nothing of all the lies he has to tell his friends. Falling in love with an ex-cop with anger management issues is the last thing he should be doing.
Finn thinks Michael is incredibly sexy. Michael knows Finn is the only thing that still makes him smile. But in a relationship where cops and robbers are natural enemies, that might not be enough to save them.
~
"Finn's belief that "if the heart is going to err… It's surely always best to err on the side of love" underlies an entertaining,emotionally satisfying mix of intrigue, mourning, adventure, comedy, and romance." – Publishers Weekly review of Trowchester Blues