Foxglove Copse now available for pre-order
Well, provisionally, following my surgery I am more or less happy to declare that I am not dead yet 🙂
I've also come out of the hospital to news that the Porthkennack series is now available for pre-order.
A complete change of pace from the historical-fantasy of the Arising books, the Porthkennack series is a shared universe series, where several authors write stories based in the same location. In this case, the location is a small seaside town in Cornwall, and the 'several authors' are me, Joanna Chambers, Charlie Cochrane, Garrett Leigh, and JL Merrow. Each book is a standalone, but locations and some characters may be shared between them. (You'll find Garrett's Brix from Blood Rush has a walk on part in my Foxglove Copse, for example.)
The series is planned to contain mostly contemporary novels, but with a few historicals thrown in for background. I'll be writing one of the historicals for the second wave, but my first novel in the series is the contemporary Foxglove Copse in which eco-traveler Sam Atkins and local boy Ruan Gwynn investigate what looks like a nasty bit of cultic activity on Ruan's aunt's farm.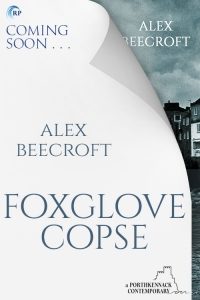 Blurb:
After a massive anxiety attack, Sam Atkins left his high-powered job in the City and committed himself to life on the road in a small van. Six months in, he's running out of savings and coming to the conclusion that he might have to go home to his emotionally abusive family.
Needing time to think, he takes a walk through a copse by the Cornish roadside, only to stumble upon the body of a ritualistically killed sheep. As he's trying to work out what the symbols around the animal mean, the sheep's owner, Jennifer, and her nephew, Ruan Gwynn, come upon him.
Ruan is a kind-hearted young man with a large supportive clan, and since he and Sam feel almost instant attraction, he doesn't want to believe Sam is a sheep-killing cultist. In fact, the moment he lays eyes on Sam's miserable solitary life, he wants to rescue the man. But as the killings escalate, he and Sam need to stop whoever is actually to blame before they can concentrate on saving each other.

Foxglove Copse available here for preorder

And if you would like to read the rest of the Porthkennack books, you can find them here on the collection page.

Meanwhile, I hope to soon be fit enough to start writing again on my second novel for the series, which is the first Age of Sail novel I've done for a good long time, and is currently five chapters long out of a planned thirty.