Captain's Surrender Paperback
The proof arrived this morning and was a joy to behold, so I have okayed it, and you should now be able to buy a paperback of the new edition.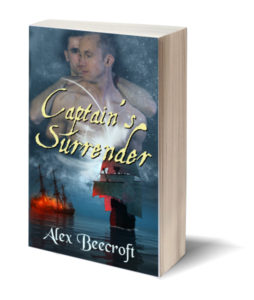 I don't know how long it will take until it's available on Amazon or other retailers, but it should be available right now on the Createspace website here. (From which I may say I get the maximum royalties 😉 )
Now that I know that worked, one of my projects for the new year will be to do a paperback version of Lioness of Cygnus 5. (The last time I tried, I got a doorstop of a book 600 odd pages long because it was doublespaced with extra spaces between paragraphs throughout. This time I will do it properly, reformatting everything and then cutting and pasting each chapter individually into the template.
It is, I have to say, worth it. The new version of Captain's Surrender is a very good looking book, with a nice large text size that makes it easy to read even without your glasses. Very professional! I am pleased.
On other news, I have finally started work on Contraband Hearts – the second of my Porthkennack books. This is going to be an Age of Sail book from me! A new one, after all hope was lost. It's not going to be a naval one, though – this one is smuggler versus Customs officer, with some wrecking, some mining and some pilchard fishing just for local colour.
Subject to my health, the plan for this year is:
Blog posts for the Arising series release tour
Write Contraband Hearts and get it to Riptide before August.
Edit Foxglove Copse
Release Lioness of Cygnus Five in paperback.
Edit Heart of Cygnus Five and release in ebook and paperback
Edit Waters of the Deep (sequel to The Wages of Sin) and release in ebook format
Edit Pride of Cygnus Five and release in ebook and paperback
Write something else – possibly a Trowchester murder mystery book. Or – if I don't have time after everything else – the third Jasper and Charles story, so I can bundle Wages of Sin, Waters of the deep and Torments of the Damned into an anthology of Unquiet Spirits novellas.
Ideally I would like to get back to the point where I have a ratio of one book in need of editing to one book in first draft stage. My concentration on producing new stuff in 2016 has left me with a serious second draft/editing backlog.