Under Leaden Skies – A Guest Post by Sandra Lindsey
Sandra and I go way back to the days when we were both hanging out on Livejournal together. She cheered me through the submission of the book that became Captain's Surrender to its first publisher. So I am extremely happy to be able to hand over my blog to her for a guest post about her first novel, Under Leaden Skies, which came out from Manifold Press on Monday 1st of August. Just this week 🙂 It's really exciting! Fistbump of authorly solidarity to you, Sandra.
~
Things I learned during the writing and publishing of Under Leaden Skies
My first book, Under Leaden Skies, was released on Monday. As the full story of writing it is fairly long, I thought I would condense my experience into some of the things I have learned during the process.
1) Outline. Or at least have a vague 3-point plan.
They say there are "plotters" and "pantsers". Well, the first draft of this book was written without any pre-plotting beyond "miner and airman in love during WW2". Writing it was an adventure, editing it a complete and utter nightmare. I think it took me a month just to sort all the events into a coherent timeline, before I could even start looking to improve any other aspect.
2) When in doubt, research.
Roughly 99% of this story came out of the research I did: reading books and online articles, watching archive training films from the period as well as documentaries made decades later, joining Facebook groups and following people on Twitter who are interested in vintage aircraft. If this were a piece of academic writing rather than fiction, I hate to think how high a number I would have reached in marking my reference notes!
There is so much information available out there! As someone who didn't have internet access until University, I remain amazed at how easy it is to access archived data. Everything from the dates which Teddy's squadron moved from one posting to another, and which day of the week they were, to the Met Office weather reports (or at least monthly summaries) for each region of the British Isles during the 20th century (yes, I really did check if the weather in January 1942 was such that Teddy would be ok sitting talking for a while wearing nothing but pyjama bottoms in a minimally-heated room).
3) If you can visit places in real life, do
It was nearly 20 years ago now, but I have been down a coal mine – Big Pit, in South Wales – and my descriptions of Huw's home village are based on what I remember of the villages clinging to the sides of Welsh valleys. I found it much easier to write the scenes in his family home after visiting Beamish in County Durham – another mining area – and their preserved '1900s Pit Village', than just from reading descriptions and watching documentaries, however good they were. Most importantly, though, I visited the Sunderland flying boat preserved at RAF Museum London. Although one is not able to access the upper deck of this aircraft, I saw enough to realise that I had mis-understood part of the internal layout, and swiftly launched into re-writing at least one pivotal scene!
4) Sometimes, things are easier than you think they will be
There was a long gap between writing this story and pitching it to a publisher. Several years. Mostly, that's because it's not a romance. My characters refused to comply with any romance tropes, and therefore left me contemplating a much smaller group of possible publishers than I had initially hoped. I used the time to learn more about the industry, to keep my ears open to any information about working with various publishers, and most importantly to continually improve my craft.
When I finally decided to approach Manifold Press, and booked a pitch slot with them at UK Meet, I was unbelievably nervous, and assumed I would have a 'hard sell'. I should have trusted that my research and instincts about their priorities would be correct. Although we both started off a little tentatively, within minutes we seemed to simply be enthusing at each other about writing and story, and history… and I opened my mouth without thinking and said "and of course, even though the story finishes at the end of the war, we ourselves know that doesn't mean they will have a happy ever after, with everything which happened during the middle of the 20th century, and even inheritance tax might… Oh!"
I probably should have thought beforehand whether or not I wanted to write a sequel…
Similarly, I expected the cover to need several attempts before we found a compromise both I and the publisher were happy with – and I never really expected to get a picture of a Sunderland right there. But that's what they offered on the very first version, and not only that but the whole image subtly shows the mood of the story.
Maybe I'm just incredibly lucky, or maybe it's the decade I've spent hanging around with LGBTQ+ fiction and authors. Either way, I've got a damn great silly grin on my face and can't wait to hear what other people make of my book.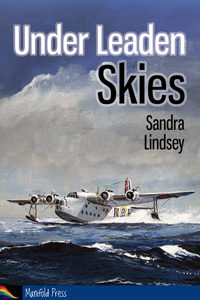 Under Leaden Skies
Love. Loss. Betrayal. Forgiveness. Honour. Duty. Family.
In 1939, the arrival of war prompted 'Teddy' Maximilian Garston to confess his love to his childhood friend, Huw Roberts. Separated by duty – Teddy piloting Sunderland flying boats for RAF Coastal Command, and Huw deep underground in a South Wales coal mine – their relationship is frustrated by secrecy, distance, and the stress of war that tears into every aspect of their lives.
After endless months of dull patrols, a chance encounter over the Bay of Biscay will forever change the course of Teddy's life. On returning to Britain, how will he face the consequences of choices made when far from home? Can he find a way to provide for everyone he loves, and build a family from the ashes of wartime grief?