Tattoo completed
After all these years!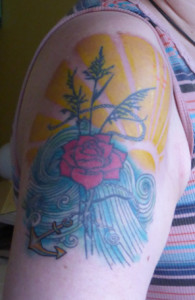 Got my tattoo finished off yesterday. I can't actually tell what colour it is because it is so inflamed, but when it calms down it will probably be verging on very yellow. I now have my own sunshine with me at all times.
You couldn't really see the anchor before, so I suggested making the anchor yellow/orange too, and Nick (the artist) said 'Ah, yes, it's reflecting the sky.' Which I had not thought of, in fact, but makes so much sense.
Entire thing designed by me, done and hand shaded by Nick of Tattoo Crazy in March. I can't recommend them enough.