Hazards of not writing
Well, a day off turned into a week. A week during which I enthusiastically tried other, new things. I did, however, make a plot plan for the Fantasy I meant to start tomorrow – so, progress there.
I also began to learn the melodeon:
Which is harder than it seems. Both hands have to work independently, and the scale goes "push, pull, push, pull, push, pull, pull, push" which is confusing.
After extensive practice, I can now play The Winster Gallop, and I'm starting on the Winster Processional.
Or I was…
Yesterday I went on a blacksmithing course and made this hook: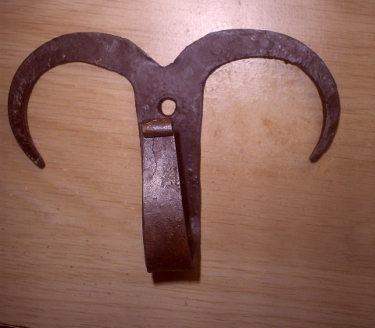 I had finished it, it was lying on the anvil and all I had to do was give it a coat of beeswax to blacken it. I was very tired, as it had been heavy work, drawing out the iron and tapering it by heating and hammering it. So I picked up the beeswax, held the hook down with my other hand, completely forgetting that it was still hot, burnt my first two fingertips and thumb to the point where the skin turned white.
Spent yesterday evening in A&E, with hideous pain. They dosed me up on morphine and sent me home with my hand looking like this: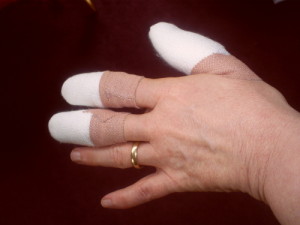 So how I'm going to start writing the next thing tomorrow, I don't know. Longhand, probably.