If you want a free copy of my short stories
hie thee over to Smashwords, where I'm giving away the anthology for nothing at all, as part of some kind of promotional thing. Popular wisdom says this is a good thing for me too, but I'm reserving judgement on that. It is, however certainly good for anyone who wants a copy of my short stories for free.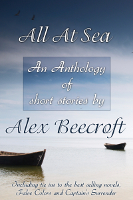 Click here and use the code RW100 at the checkout to get the money off.
It's got the tie-in stories from False Colors, Captain's Surrender and The Wages of Sin all in one place 🙂