Exciting news
Well, it's exciting to me, at least 🙂
Firstly a rather belated announcement that The Reluctant Berserker is now out in ebook format from all reputable sellers of electronic wares.
Any excuse to post the cover is a good excuse 🙂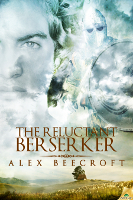 Secondly, I can now announce that I have just signed a contract with Riptide Publishing on three new contemporary m/m romances. Two volumes of which are with them already and the third I'm writing at the moment.
If you remember, a long time ago I asked what people would like to see out of a choice of story ideas. Unanimously everyone thought that a romance between a re-enactor and a morris dancer was what they wanted. So I wrote Blue Eyed Stranger, which is exactly that.
Then I decided I quite liked having my own fictional town to play with. As I am just coming out of a mid-life crisis myself, I thought "lets do a m/m romance with some slightly older gentlemen, who are also trying to figure out what to do with themselves now the first half of their lives is over." And that became Trowchester Blues.
And then I decided "well… if I'm talking about things that are relevant to myself, lets talk about asexuality. You really don't see many asexual characters around." So the story I'm writing at the moment is a love story between a gay man and a homo-romantic asexual man. It's currently about a third of the way through, and also features murder and pottery, because… Because. The temporary title of this one is Blue Steel Chain.
You see what I did there with the Blue thing? I'm so proud of myself 😉
This is the first time I've ever done a series, and I'm having such fun reintroducing characters and settings. I don't know why I didn't do it before.
I note that I still can't leave history entirely out of it, contemporary or not. We have a re-enactor in Blue Eyed Stranger, the owner of an antiquarian bookshop in Trowchester Blues, and an archaeologist in Blue Steel Chain. And Trowchester itself of course has Roman walls, Saxon churches and a Bronze age hill fort. But hey, authors are allowed their themes, right?
Trowchester Blues is due out first, on the 15th of December 2014. Then the others follow in April and July of 2015. I foresee 2014 being pretty busy!