The Crimson Outlaw is out now!
Woohoo! It feels like a long time since I've had a new release, due to my unfortunate habit of bunching things up and leaving big gaps between the bunches. And typically I'm going on holiday tomorrow so I won't be around to promote it for a week, but never mind, I can do that a bit when I get back.
This is my first book with a cover drawn by an artist. I asked for something with a fairy-tale theme because Romania was such a fairy-tale country (full of witches and wolves) during the time when this was set, and I think the artist has done beautifully. Despite that slightly fairy tale feel, this is a historical not a fantasy.
So with no more ado, I announce the arrival of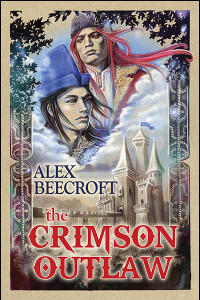 Love is the greatest outlaw of all.
Vali, heir to a powerful local boyar, flees his father's cruelty to seek his fortune in the untamed Carpathian forests. There he expects to fight ferocious bandits and woo fair maidens to prove himself worthy of returning to depose his tyrannical father. But when he is ambushed by Mihai Roscat, the fearsome Crimson Outlaw, he discovers that he's surprisingly happy to be captured and debauched instead.
Mihai, once an honoured knight, has long sought revenge against Vali's father, Wadim, who killed his lord and forced him into a life of banditry. Expecting his hostage to be a resentful, spoiled brat, Mihai is unprepared for the boy to switch loyalties, saving the lives of villagers and of Mihai himself during one of Wadim's raids. Mihai is equally unprepared for the attraction between them to deepen into love.
Vali soon learns that life outside the castle is not the fairy tale he thought, and happy endings must be earned. To free themselves and their people from Wadim's oppression, Vali and Mihai must forge their love into the spear-point of a revolution and fight for a better world for all.
http://www.riptidepublishing.com/titles/crimson-outlaw
With a short excerpt here