Hop against Homophobia and Transphobia
So, today is International Day Against Homophobia and Transphobia http://dayagainsthomophobia.org/ and to mark the day lots of people around the web are taking part in the (blog) Hop against Homophobia and Transphobia.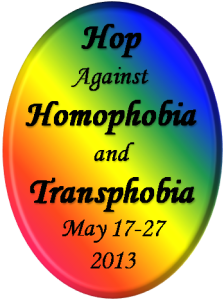 I was amused in a slightly sad and bitter way to find that the instructions that came with participation in this event refer to it as the Hop against Homophobia, and in the 'what to include' section offers the advice to 'give your message on homophobia' and 'do whatever else you feel like: link to sites you're familiar with that focus on fighting homophobia'. Look at that URL again if you don't believe me.
I'm all for blogging against homophobia, but it's a sad reflection of society's priorities that even the 'how to' section of the 'hop against homophobia and transphobia' forgets to mention the possibility that you might want to blog about transphobia instead.
As the mother of a transgender child, I'm very aware of how the world is stacked against him. It was OK when he was pre-puberty and everyone assumed he was a boy anyway, but puberty heralded bullying and withdrawal and endlessly having to think up reasons why he couldn't go swimming without a wetsuit, why he couldn't do PE at school (where he would be forced to use the girls' changing rooms,) why he couldn't go into toilets when he was outside the house, leading to him giving up drinking altogether, etc.
They're all little things, I know. Little things attended with massive existential anxiety. Little things attended with society's constant incomprehension that there's even a problem – its attempts to push the blame on him for being difficult. I'm not even mentioning the statistics on self-harm and suicide among transgendered children, although as a mother I live in fear for him. And I'm not even mentioning my continuing fear that he will be targeted for transphobic violence or even murdered, as happens to so many transgender people.
But I am thinking, damn, it's hard when the very movement that's apparently set up to raise awareness of this decides he doesn't exist, or that his problems are not worth talking about.
So, rather than get all angry, I'll use this opportunity to big up the Tavistock and Portland Clinic, who are doing something constructive:
http://www.tavistockandportman.nhs.uk/GIDSresearch
and the NHS which has so far been more understanding and more helpful – and more willing to believe him – than I had ever been led to believe.
~
In accordance with the blog-hop instructions I'll be offering a book to a random commenter, so check back in a few days to see if your name came up and if you need to tell me where to send it.
Also, since this is a sensitive subject that can easily devolve into arguments in which real-life people get hurt, I will be strictly monitoring and controlling the comments. In contrast to my usual behaviour on my blog, I'm not interested in an intellectual debate about this. I have done the debate already and I've come down on the side of believing my son.
~