Off on another rant about voice.
You know what I hate? I hate this modern style of over-active prose. I just opened a book this morning. It sounded great – it's about mysterious goings on in Istanbul, cults and relics and stuff. All things which have appealed to me since the first Indiana Jones film.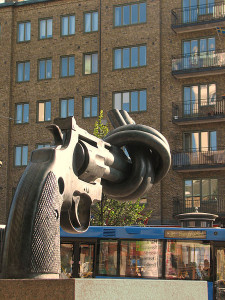 But, damn, the style. All short driving sentences and maximum impact and urgency. I feel as if the author got me by the hair and kept hitting me in the face, shouting "WAKE UP! WAKE UP, PAY ATTENTION. I WANT TO SEE THAT ADRENALIN RUSH." Slap! Slap! "TELL ME YOU'RE ENJOYING IT ALREADY! LOOK!" *Twists my head unmercifully* "DEATH! SEX! PERIL! MORE DEATH! AREN'T YOU HAVING FUN YET?"
I just want to throw the book straight in the bin (within the first 5 pages) and never read anything else by that author. Because, fuck you! Even if I was into BDSM and liked a bit of pain, you'd have to work up to this level of intense from a ground floor of mildly interested. But actually I'm not into BDSM and having you (metaphorically) shout in my face, spraying me with spittle, just makes me want to (metaphorically) get out my machine gun and blow you into a million shredded scraps. And then possibly stamp on the pieces afterwards.
So yes, this is probably an object lesson in why I hate all that advice designed to turn your (flowing, lyrical) prose into ACTION!PROSE. I like to be hooked, intrigued, as much as the next man, but I also like to have time to appreciate that lovely sunrise, the river valley we're in, the wonders of Istanbul, the moral dilemma that confronts our hero, the moments of joy and beauty amidst the peril etc etc without being bludgeoned repeatedly with DEATH! PERIL! SEX! DEATH! NOW, NOW, NOW!
If this is how the book starts, does anyone ever get to the end of it without a heart attack?