Last to see Iron Man 3
My daughter went to the midnight screening in London, and my son went to see it immediately after his drama exam at the matinee today. Daughter says "just as good as Iron Man 2", and son says "it was OK, but we missed the first ten minutes and I never figured out what was going on." If it was possible to be jealous of your own children, I would be, but fortunately it isn't, so I will just see it some time this weekend and be careful to arrive early.
Morris dance practice season is almost over, to be succeeded on May 1st by Morris dance-out season. We (where 'we' = both the Coton Morris Men and the Ely and Littleport Riot) will be dancing the sun up outside Ely Cathedral on Wednesday morning. So if you want to come along at 5.20am, to watch us set in motion the machinery that keeps the sun rising all year long, you'd be very welcome.
DH and I are trying to learn the melodeon, on a very old single-row instrument loaned to us by one of the other musicians. The main problem seems to be figuring out where the notes are, which DH has solved with a tuning app on his phone. If it was mine, I'd label the buttons, but it isn't, so I can't. We are just about able to pick out "Bluebells of Scotland" on it, which feels like a major achievement.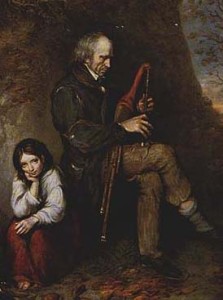 I've been looking at practice chanters for the Uilleann pipes on ebay, which you seem to be able to get for £25, though an actual playable set of pipes isn't available for less than about £200. But everyone says they take at least 7 years to learn, and I don't think I have that sort of persistence. I should probably just stick to the whistle.