New cover for The Witch's Boy
One of the advantages (or disadvantages? I'm not sure,) of self-publishing is the ability to continue to mess with a book even once it's been published. At any rate, The Witch's Boy continues to sell, slowly but steadily, on Amazon and on Smashwords, and I continue to be happy with my decision to go for self-publishing rather than small press publishing there.
However, I read this article yesterday, which suggests ways to kickstart a bit of new life into a novel. The Witch's Boy has any number of five star reviews, so that part is OK and I couldn't do anything about it even if it wasn't. The price is right already – I'm certainly not going any lower than this for an opus this size. So I thought I would try altering the cover and see if that made a difference.
I was glad to have the excuse, to be honest. While I love the Grimoire cover, it's not what you would call eye-catching, and it is possibly a little grim. And the previous cover I'd made for it was made in days when I didn't have much cover art experience. I now think it was a bit amateurish. I was sure I could do better.
So here's the new cover: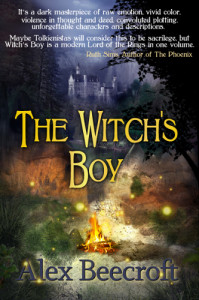 Many thanks to Ruth Sims for the pull quote!
If you have the old version, and would prefer one with the new cover, I believe both Smashwords and Amazon allow you to download it again for no extra cost. Watch this space to find out if it makes things better or worse (or no different) in terms of sales 🙂