Mother's Day Result!
For some reason, probably because Eldest is now at university and Youngest has never been known to remember birthdays or any other significant event without parental pressure, I was not expecting anyone to remember Mother's Day this year. So imagine my shock and delight when they both collaborated to get me a present. Furthermore, it was not one of those awful 'presents for mothers' such as you see on the TV or in the shops. They had actually bought me something they knew I would like. I present to you the most awesome mother's day present I've ever got in my life…
The white tree of Gondor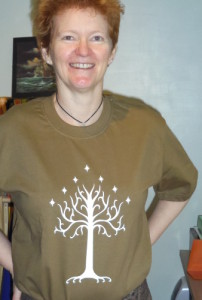 on a T-shirt.
What's even better is that it came with a note from the T-shirt people to say that if I reviewed the shirt I'd got, they'd send me a free one, drawn from a random lucky dip selection. This seemed too good an opportunity to turn down, so I reviewed my White Tree t-shirt on Sunday night, and this morning I received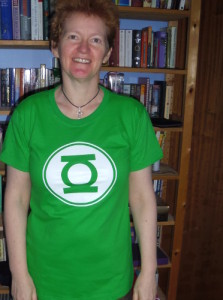 a Green Lantern one totally free. Huzzah!
Considering how tightfisted I am (such that I had to sell a book before I allowed myself to buy my Latveria T-shirt) to have two geeky T-shirts at once is infinitely cool. Mother's Day – no longer just for pink cards and a small bunch of daffodils from church. Now with added "my children actually know what I'm like as a person." It's a good feeling 🙂