Good news on The Crimson Outlaw front
Eagle eyed viewers may have noticed that there is now a little picture of The Crimson Outlaw in the sidebar of this blog, under the "Coming Soon" heading. That's because I'm delighted to say I have signed a contract today with Riptide Publishing to publish this.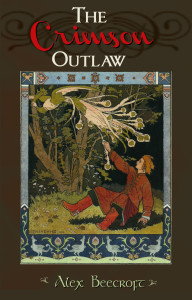 Look for it in August 2013.
It certainly won't be under this cover, as this is just the temporary cover I made for it. (Like picking actors to cast in the parts, one of my rituals when I officially start a project is to make it a temporary cover. It helps me feel that it's more like a real thing and less like just a bunch of grey on grey pixels.)
It may not even be under this title. I often find that the publishers know better than I do when it comes to titles, and they can usually think of something more exciting. But a new cover and a new title is part of the excitement that comes with getting a publisher for it, so I'm looking forward to telling you all about them too, in due course.
In the mean time… back to the sick bed. Hopefully I'll be well enough to start content edits on it tomorrow 🙂