Appropriate names in the SF/F field.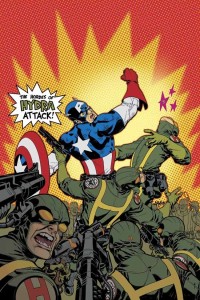 So, you know how Captain America fights the evil organisation Hydra in order to save the world for the forces of freedom? Was someone in Random House trying to give us a subliminal warning about their new ebook-only imprint?
http://whatever.scalzi.com/2013/03/06/note-to-sff-writers-random-houses-hydra-imprint-has-appallingly-bad-contract-terms/
Obviously, I don't have a problem with not getting an advance. I rather like knowing I have royalties coming in every month from the start, and I found the experience of getting an advance instead (for False Colors) rather a discouraging one. But to grab rights to a novel for the life of the copyright – ie, until 70 years after you, the author, are dead – is… it's… despicable. And to then charge the author for set-up fees on top?
Seriously? I've always had "being published by Random House" as one of my life goals, but now I'm not so sure. Clearly they don't respect their authors at all, so my respect for them has taken a body blow in return.
~
On other news – I'm still ill. An entire week lost due to flu. I am not happy. But I tried starting the edits on Crimson Outlaw today and it took me four hours to change Valeriu's name (twice). He's Anghel as of now, but I don't guarantee he will stay that way tomorrow. Maybe by Monday I'll be well enough to make sense again. I hope!