It took five years but it is finally here!
Huzzah! It was in 2007 that I signed the first contract to publish the story that was then called "90% Proof". It got past three rounds of editing, and then the anthology project was shelved due to editorial illness and I was offered the rights back.
Then in 2008 I signed the second contract to publish it, and in 2011, when nothing had happened to it in three years, I asked for the rights back. After a re-write and an expansion, I offered it to Carina, and they re-titled it, and today it is actually published as His Heart's Obsession! I can un-cross my fingers, finally 🙂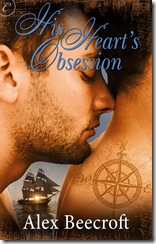 As if to reward me for my patience, it's already had some lovely reviews, and topped Carina's bestseller list, so I'm officially removing it from my 'most jinxed story' category (re-crossing my fingers just in case that was unwise.)
I've never had so many reviews before a book was actually out!
The Book Vixen says
This is an excellent MM historical romance with full-developed characters and an emotionally intimate romance. MM fans will do well to read this one.
Tracy's Place says
Though the story was short it was filled with emotion, friendship and love and had me turning page after page.
and The Novel Approach says
As with Alex Beecroft's False Colors (which I loved), His Heart's Obsession is as much an homage to the Age of Sail as it is a story of forbidden love and the danger it represents. While I'd have liked a bit more exploration of the whens, hows, and whys that lead up to Robert falling in love with Hal, I very much enjoyed what came after.
Thank you to all of them 🙂
If you are feeling so inclined, you can get a copy here :) Thank you!
~*~*~*~
Review of Under the Hill: Bomber's Moon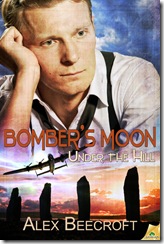 And while I'm doing a reviews post, I think I'll sneak in this lovely review for Under the Hill: Bomber's Moon from Talking Two Lips
This book is a MUST READ for fantasy fans, and even if you're not a fantasy fan, I urge you to get it anyway. You won't be disappointed.