News on "Blessed Isle"
I thought I'd pass this along in case anyone wanted to get a copy of Hidden Conflict – the anthology with my "Blessed Isle" in it.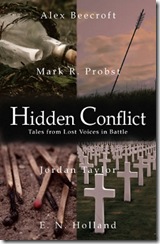 We are clearing out excess stock of the now out-of-print titles: The Filly and Hidden Conflict: Tales from Lost Voices in Battle. Get them for $4.99 each at TLA Video:
http://www.tlavideo.com/gay-cheyenne-publishing/studio-4834-2?order_by=price
When they're gone, they're gone!
~
The contract is up on Blessed Isle, so I have decided to take back the rights and publish it myself as a stand-alone novella. I don't know when I'll get round to that, but I don't think it will be before July. In fact – look, here I am giving myself a deadline – I will publish it on Amazon and Smashwords on 20th of July.
In the mean time, if you would like a copy of the print anthology, which comes with three other excellent novella length m/m historicals, this is your last chance, and at a bargain price too 🙂