HMS Albion identified in the real world!
I recently had a lovely email from Gert Alenhall, who is the person in charge of making and keeping the 18th century clothes of the mariners on the Swedish ship Götheborg. He also runs a business of his own, designing and making all kinds of costumes. Check out his website here www.ateljealenhall.se )
He said (I paraphrase) "I was very surprised to see the cover of your book, False Colors, because that's my ship on there, and I keep the archives of photos and don't remember that one."
I had no idea where the photo came from, as the cover was made by Larry Rostant and I had nothing to do with it, but I was simply amazed that it's a real ship at all. How lovely!
I'm not making myself clear, am I? But breaking news is that the ship at the bottom of this cover: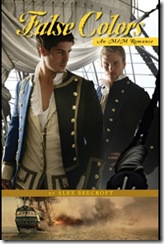 is this ship:
http://en.wikipedia.org/wiki/G%C3%B6theborg_%28ship%29
Here she is exchanging gun salutes with HMS Belfast on her way back home to Sweden after visiting London:
How cool is that? I would say "very" but I am biased 🙂