Japan, interview, and UK Meet.
Treat yourself and help Japan
First of all, I was going to post about the wonderful birthday present I got from Mirien, which I absolutely love.  I've put it on a black thong to wear it because that seems to go better with the feeling of wearing something out of antiquity.  I tried to take a photo of it, but failed to get one that was good enough to show it off properly.  You can see what it looks like at her post here. Or, since I borrowed her photo, here: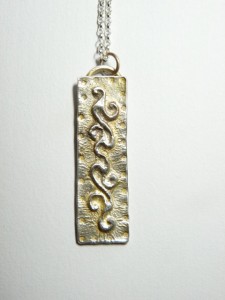 So, as I say, I was going to post about that, but then Mirien decided to make some charms for sale in aid of the Japan relief effort, and I thought it would be better to post about that instead.  She has made some lovely sakura-blossom shaped silver charms stamped with a leaf pattern, suitable for wearing as a pendant or a bracelet or phone charm, or as earrings if you get two.  They're available for £14, which is not much for a handmade piece of jewellery from an up and coming designer.  Of that, £4 is the price of the silver, and £10 will go to Japan.  So you can buy yourself (or someone else) something nice while also doing a good deed.  Win/win 🙂
~
I am interviewed on Sharita Lira's blog
It's been a long time since I did an interview, and I thoroughly enjoyed doing this one, as Sharita's questions were very interesting and up to the minute:
Thanks Sharita!
~
UK Meet – 23rd July

Advance notice of the UK Meet – a con for writers and fans of GLBT Fiction, whether that's M/M romance, F/F romance or any other genre featuring GLBTQ characters.  That's being held on the 23rd of July in Milton Keynes.  You can find details of the venue and booking information on the UK Meet website.  If you know anyone who you think would want to come, do pass the info on.  Thanks!
When I say "con", mind you, what I mean is "it's a meeting with a few talks, and you can stay for dinner afterwards if you like."  We're not promising anything huge and highly polished, so much as a chance to come and meet some of the UK authors and hang out 🙂