Days 4 and 5 (updated on day 7)
I started this diary of the tattoo healing process because I assumed there would be something to report.  I'd googled it a bit and I was aware of horror stories such as waking up the first morning after with the tattoo stuck to the sheets and pulling out half the ink trying to get it off.  I thought there would be something of interest to report every day.
However, one of the things I did notice on Googling was that there were large amounts of people telling tattoo newbies to take the clingfilm off at once, OMG! So perhaps it's of some use that I can provide an alternative opinion.
I kept the clingfilm on for the full four days, taking it off every 8 hours to gently wash the tattoo with mild liquid soap.  I allowed it to air-dry for about 15 minutes before putting clean clingfilm back on.  I tweaked my schedule so that I could wash and re-dress it immediately before going to bed.
Over the four days all that happened was that the tattoo slowly became less inflamed.  It slowly stopped seeping plasma, and by the end of the fourth day it was dry to the touch throughout.  There was no visible scabbing and there was no itching (although I may have missed the itching because my skin elsewhere on my shoulder was itchy from reacting to the tape used to keep the clingfilm on.)
Meanwhile, because of the clingfilm, I didn't have to worry about the seeping wound sticking to my clothes or sheets, nor did I have to worry about it being exposed to dirt or germs.
Today (day 5) I'm supposed to take the clingfilm off, so I have done.  I think it's pretty much healed, although it's ever so slightly rougher than the rest of my skin.  I don't know whether that's normal, or that's an invisible scab, so I'm giving it a dose of tattoo aftercare cream every 8 hours just to be sure.  But seriously, if I'd known that so little was going to happen, I wouldn't have committed to doing this tattoo healing process diary.  Not that I mind in any way that it turned out to be so much less dramatic than I expected!
Revealed to the world: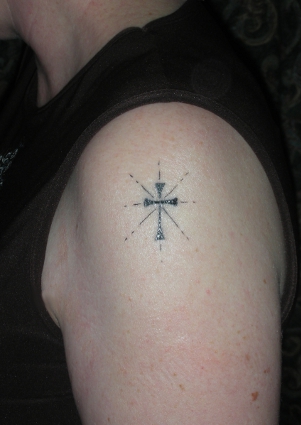 (Although not actually, because I've still got to keep it out of the sun, swimming pools or sunbeds for another 3 weeks.  At this time of year, that shouldn't be too difficult.)
It's a bit tiny, isn't it?  Next time something bigger, I think 🙂
Updated on day 7 to say that a few hours after I posted this, it started to peel the way a sunburn peels and that rough layer flaked off.  By the end of day 6 it was fully healed and looking like skin again, though still just as dark as it looks in this picture.  I can officially say that the process is over and was thankfully very anti-climactic throughout.  Let's hope the next one goes as well!