Great books I have read recently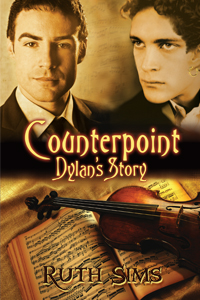 COUNTERPOINT: DYLAN'S STORY is the story of Dylan Rutledge's life, from the age of eighteen until his early thirties, and of the two men whose lives were intertwined with his at different times and in different ways.
At eighteen Dylan Rutledge has one obsession: music. He believes his destiny is to be the greatest composer of the rapidly approaching twentieth century. Only Laurence Northcliff, a young history master at The Venerable Bede School for Young Gentlemen, believes in Dylan's talent and encourages his dream, not realizing Dylan is in love with him.
But Dylan's passion and belief in his future come at a high price. They will alienate him from his family and lead him on a rocky path fraught with disappointment, rejection, and devastating loss that kills his dream. A forbidden love could bring the dream back to life and rescue Dylan from despair and bitterness, but does he have the courage to reach out and take it? Will he deny the music that rules his soul?
I can't remember if I've talked about this one before, but it's brilliant.  Even better than Ruth's The Phoenix, which has been one of my all time favourites in the genre.  I'm not feeling up to a full review, but I'd kick myself if I didn't say what a great book this is.  Lovely period setting, a complex plot that tackles all kinds of interesting things about music, what it's like being the kind of genius composer who is years ahead of his time, and what happens when you meet the rare people who can appreciate that gift.  It's got a real gut punch of emotion, and it has the sexiest hero I've ever come across in m/m.  Highly recommended.
~*~
Andrew Waters, son of an American diplomat and a Chinese mother, already has two strikes against him when he joins the crew of the USS Pilgrim not long after Pearl Harbor–his mixed heritage and his pacifism.
He never expects he will fall in love with his handsome commanding officer.
The crew of the Pilgrim is captured and sent to the notorious Changi POW camp. The man Andrew loves will die without proper medical treatment. To save his life, Andrew makes a choice that could cost him not just his future but his life.
This is not so much a romance as a beautifully written war story with a gay hero. That is, love plays its part, but there's a lot more than that going on, storms, brawls, hunger, captivity, human cruelty and ingenuity.  All the kinds of things that I enjoy – a succession of really well realized settings and complex characters in complicated situations, philosophy, the sheer enjoyment of beautiful language.  Definitely transcends its genre and becomes a work of literature rather than mere entertainment.  (Though it's hard to put down and a real page turner as well.)
I realize I'm behind the times with both of these, but I think it's worth saying how good they are, even if I'm a bit late to the party 🙂