I Do Anthology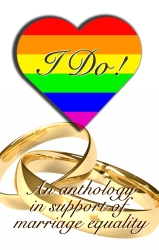 An Anthology in Support of Marriage Equality.
Blurb
Do you support the right of any human being to marry the person they love?  The right to say 'I Do' to a life of commitment and sharing with the that one special person?  Through sickness and health, for better or worse, til death do them part…
We do.
We hope that marriage will soon be a dream that everyone can share. That's why more than twenty top authors of GBLT fiction have donated stories to this book.
All profits from this anthology will go to the Lambda Legal Fund, http://www.lambdalegal.org/, to help them fight the cause of marriage equality in the CA Supreme Court and beyond.
This anthology is now available from All Romance Ebooks and from Mobipocket in ebook form. Print is available from Barnes and Noble here and from Amazon here.
For details of the other stories in the volume, check out the I Do website HERE
My story is called 'Desire and Disguise', an 18th Century tale of  sexual frustration and mistaken identity.
Excerpt
"Does your captain know about you?"
"About all of this?" a gesture took in the dancers, the many coloured dresses and the powdered faces in flickering candlelight, "What do you think?"
"I could tell him. I could have you dragged in front of a court of law. You'd be drummed out of the Navy and pilloried at the least. I imagine there are a lot of people who'd love the chance to throw offal and half-bricks at you, Lt. Mitchell."
Mitchell curled his lip in disgust, and Robert longed to hit him hard, split that lip and break his jaw. His knuckles ached from where he had driven them into the wall. And yet… and yet whose fault was it, truly? If he had made use of an opportunity Robert had given him, wasn't it Robert's fault for providing it?
"When you're telling him, be sure to explain how you found out," said Mitchell coldly. "Don't come the moralist with me, Mr. Digby. If I'm a sodomite, you're an adulterer. If I stand to lose my career and perhaps my life, you stand to lose your wife and child. And there is every likelihood you would hang with me. You are one of us now, after all."
"I Do! Is the best collection of same sex love stories I've come across
in a while. Each story is unique and will appeal to different people. I
got reacquainted with authors I know and met a few new ones as well.
My favorite stories were the bright, happy ones but those that touched
me more deeply were the ones that hit me in the heart…
… all of the stories in I Do! are gripping and so emotionally charged
that you can't wait to read the next one. I Joyfully Recommend I Do!"
http://www.joyfullyreviewed.com/reviews/RRs/Nov09RR/ido.antho.html