Gods And Daemons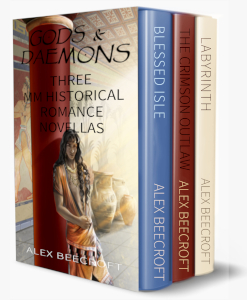 An anthology of three of my novellas – Labyrinth, Blessed Isle and The Crimson Outlaw
Blessed Isle by Alex Beecroft – a Carina bestseller, now in its third edition.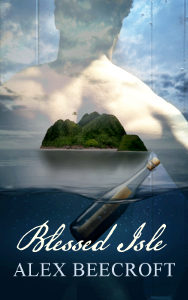 1790 British Age of Sail
For Captain Harry Thompson, the command of the prison transport ship HMS Banshee is his opportunity to prove his worth, working-class origins be damned. But his criminal attraction to his upper-crust First Lieutenant, Garnet Littleton, threatens to overturn all he's ever worked for.
Lust quickly proves to be the least of his problems, however. The deadly combination of typhus, rioting convicts, and a monstrous storm destroys his prospects . . . and shipwrecks him and Garnet on their own private island. After months of solitary paradise, the journey back to civilization—surviving mutineers, exposure, and desertion—is the ultimate test of their feelings for each other.
These two very different men each record their story for an unfathomable future in which the tale of their love—a love punishable by death in their own time—can finally be told. Today, dear reader, it is at last safe for you to hear it all.
From Dear Author
I don't know what it is about Beecroft's writing that ravishes me so. Maybe it's that her prose is like Keats' poetry to me: redolent with scent, aching with color, and beautiful with taste and sound. Maybe it's how she scours me inside with the deeply-felt emotions of her characters. But this story manages to do in 58 pages what False Colors did to me in more than 300.
The Crimson Outlaw
A novella approximately 35,000 words long, set in 18th Century Transylvania (but without a single vampire to be seen.)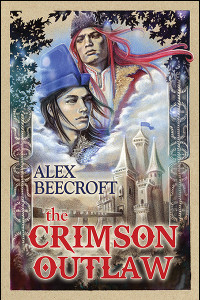 Blurb
When Vali Florescu runs from his father's cruelty, leaving their castle to seek his fortune in the untamed Carpathian forests, he expects to have to fight ferocious bandits and woo fair maidens before he can prove himself worthy to return and depose the tyrant. But when he is ambushed by Mihai Roscat, the fearsome crimson outlaw, he discovers he is more than happy to have it turn out the other way around.
Mihai, once an honoured knight, has long been waiting for revenge against Vali's father – who killed his lord and left him to a life of banditry. He's sure that Vali would make an excellent hostage to hold over Wadim's head, if only the boy wasn't quite so enthusiastic over being captured and debauched.
Excerpt
The point caught Mihai under the shoulderblade, lifted him off his feet. The speed drove a foot and a half of ash shaft into the wound before Eugen could not hold up the weight any longer and let go. Mihai fell so hard he broke the lance under him, and he did not get up.
But Vali had seen something worse. The thing twisting in agony behind the windows of the hall was the missing child, Maria, altogether ablaze. He hammered the lock of the shutters with his sword hilt until it shattered and she tumbled out, screaming , one great candle of a child. He let the sheepskin fall from his arms, wrapped it firm around her, picked her up and praying the shock wouldn't kill her dropped her straight down the well.
Pausing only to grab the rope neatly coiled beside the bucket, he jumped after. And oh God. Oh, God it was cold, but the little splashes and the whimpers said she was alive and swimming. Fumbling, because his hands were numb already and this dark was the profoundest yet, he managed to get a loop of the rope around her chest beneath her arms. She clung to him, breathing like one who is afraid to cry out loud – so fast they learned these skills. He didn't have to say "Ssh. Don't say a word or the bad men will get us." She knew it already, better than he.
A historical novella set in Ancient Minoan Crete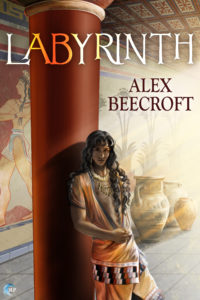 Kikeru, the child of a priestess at the sacred temple of Knossos in ancient Crete, believes that the goddesses are laughing at him. They expect him to choose whether he is a man or a woman, when he's both. They expect him to choose whether to be a husband to a wife, or a celibate priestess in the temple, when all he wants to do is invent things and be with the person he loves.
Unfortunately, that person is Rusa, the handsome ship owner who is most decidedly a man and therefore off-limits no matter what he chooses. And did he mention that the goddesses also expect him to avert war with the Greeks?
The Greeks have an army. Kikeru has his mother, Maja, who is pressuring him to give her grandchildren; Jadikira, Rusa's pregnant daughter; and superstitious Rusa, who is terrified of what the goddesses will think of him being in love with one of their chosen ones.
It's a tall order to save Crete from conquest, win his love, and keep both halves of himself. Luckily, at least the daemons are on his side.
~
I found the book huge fun and read it, letting out little whoops of delight when I spotted things I recognised. Kikeru is a delight and my heart was won  by big sensible Rusa, who can't quite believe his luck in getting a lover who is just so unusual and inventive. – Sinfully, Gay Romance Book Reviews